we make complex systems simple
rides reservations information
simply the best reservation system for tour operators.
What can I do to work from home on my own timeCreate video content that showcases the benefits of working in data entry jobs. Share these videos on social media platforms and your website to attract potential candidates.part time customer service remote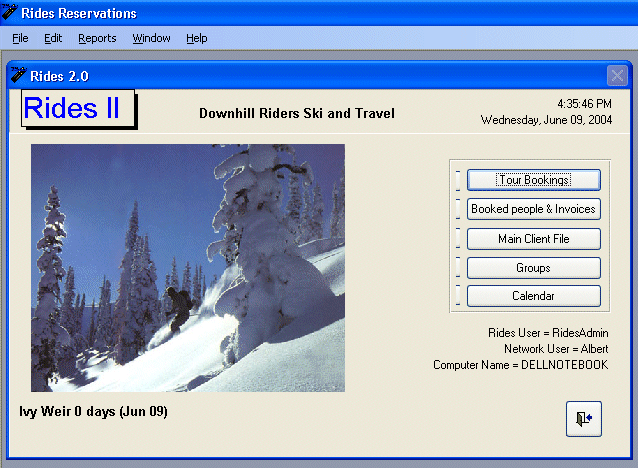 r eservation
i nformation
d isplay
enquiry
s ystem
at home customer service jobs part timeHow to Promote Yourself as a Data Entry Professionalwork from home part time jobs no experience needed
best online part time jobsWith the rise of the internet and digitalization, there are now numerous opportunities for online part-time jobs that one can do from the comfort of their homes. Data entry is one such job that has become popular among people looking for a part-time job that requires minimal experience and can be done remotely. In this article, we will discuss data entry jobs in detail, the benefits of doing this job, and how to promote it online.part time weekend jobs near me
evening data entry jobsIf you have experience in graphic design, you can offer your services to clients. You can create logos, business cards, social media graphics, and other design elements. You can find graphic design jobs on platforms like 99designs and Upwork.google part time jobs for students without investment
rides is revolutionary reservation system for tour operators.
easy to use windows interface.
all bookings can be done via keyboard, and is a easy point and shoot process. start to finish.
of course, for new users, they use the mouse, and it even easier to use! no strange product codes to learn...just point and select a tour!
full integration with microsoft word, excel, and email.
email generator is integrated into product.
can generate email lists from any tour for email marketing.
can generate form letters, and mailing labels from any tour.
a *easy* letter template generator is included. you can create, and add templates to rides if you can write a letter in word.
previous customers are re-used, and thus the mailing and marketing system avoids duplicates. a customer name is entered only once into the system. this name is then used for all future bookings, email, letters etc. the advanced relational design of rides means that you eliminate duplicates names, and also build up a customer history at the same time. all past history is viewable. any changes made to the customer name are reflected in the main customer file. this of course is due to the fact that the customer only exists once in the system.
since customers are re-used..then data entry time for future bookings is reduced...and customer service improves.
since customers are re-used, then bad, or delinquent customers can be flagged as such. this will raise an alert for future bookings.
the customer search routines are fast *and* easy. in a customer file of 30,000 records, you can drill down the search to george smith with ease...despite there being more than 300 smiths in the file. rides narrows down this search for you..and then lets you select from the resulting "hit list"
the advanced search routines will search based on how the name *sounds* ...not how the name is spelled. this is great for new staff, and just simply those who cannot spell names well. any search that *sounds* like the name will produce a match.
the rapid search system can start with a first name, and then narrow down choices via last name....or your can start with last. no special search codes, or screen "flipping" to change how you search....rides naturally works this way.
the search system makes assumptions about your search. if you type in a invoice number, then it search for invoice number. if you type in a name, then it searches for a name. i mean, should not the computer figure out what you are trying to do?
supports multiple (unlimited number) of payment methods for each individual person booked into the *same* room.
can automatically distribute payments from one person between all occupants in a room.
the people booked in a room are naturally grouped together, but can be split, mixed and matched with other people in the tour.
people booked together are kept on the same bus. you can change this..but are warned when do so. here is an example of a screen to move people between two bookings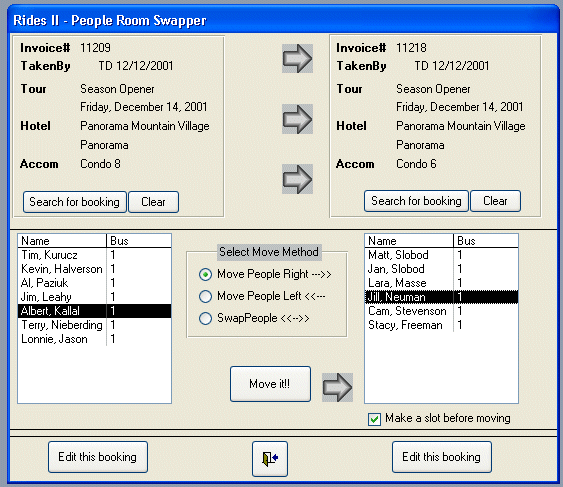 the several people in a room can be moved around as easy as one person. (only one of the room occupants need be keyed in...any changes to the booking means that all occupants will receive these changes (such as room upgrades etc.). individual payments are still permitted in these cases. the following gives an example of options that apply to *all* the people in a room.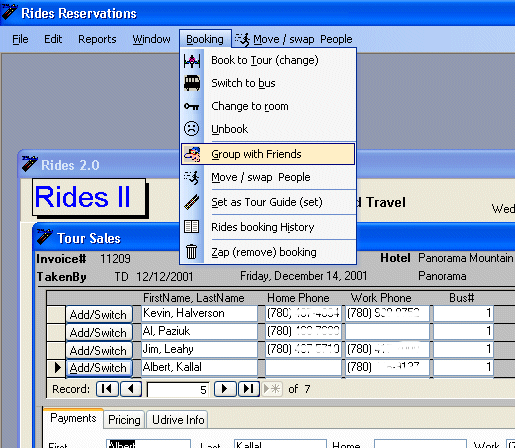 rooms of people can be *grouped* together to form a "buddy" list, or miniature group. any room list produced for the hotel will place these people together.

extensive options for corporate sales, and withholding "blocks" of rooms from front desk, or walk in sales. since rooms can be held with no occupants, then these rooms can be easily returned to the front sales (walk ins) people with great ease.

extensive marketing system for group and corporate sales (can generate phone call and history lists for seasonal sales force...keeps status of all corporate sales. (pending, contacted...deposits paid, last letter sent etc....balance owed etc.).

can "distribute" names in the groups sales database to a sales force. here is an example of how groups can be selected to work on: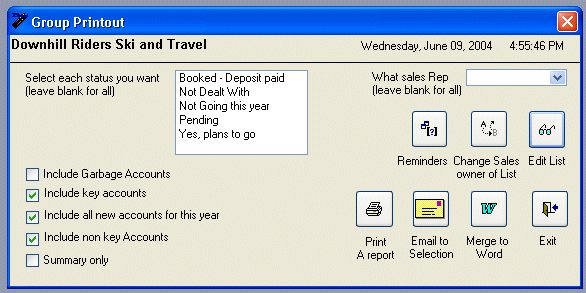 allows bulk, or single payments for a corporate group...*or* can manage a group of people with individual payments.

sales reports, and many extra's such as deferred revenue

a inventory system can be used for clothing, hats, promotional items etc.

online part time jobs for 10th pass studentsWhile online surveys may not provide a substantial income, they are a great way for students to earn some extra cash in their spare time. Companies like Swagbucks and Survey Junkie pay users to take surveys on various topics, such as shopping habits or political opinions. While the pay may not be high, online surveys are a quick and easy way for students to earn some extra money without committing to a set schedule.home based jobs without investment




great part time jobsOnce you have found opportunities to work and have honed your skills, it's time to promote your services to potential clients. Here are some tips for effectively promoting your online part-time data entry services:work from home jobs without investment daily payment